Weddings, just like every other type of party with a certain theme, have a specific dress code that guests should never disobey. Here's the thing:
If you're going to be a guest at a wedding, we're going to assume that you're already aware that there are certain things that you shouldn't wear, and that's because, let's face it, either they're going to be offensive to the bride or they're just going to be unoriginal!
Who wants the bride to become a bridezilla and make things difficult for everyone?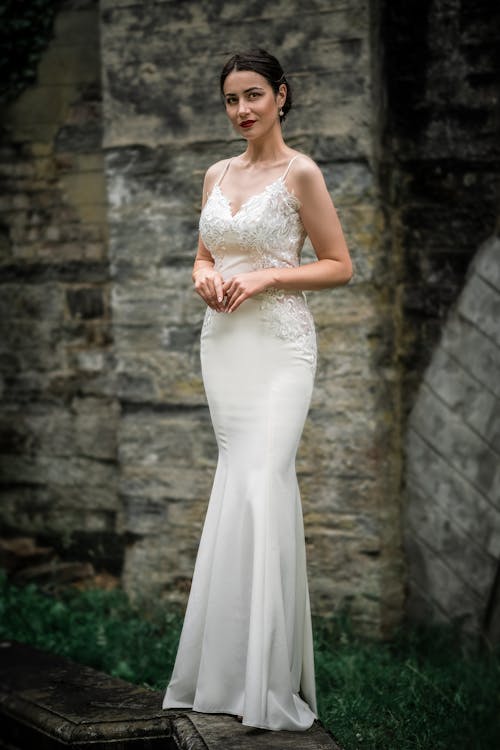 There is, however, no reason to get worked up over a forthcoming wedding celebration and break out in hives about it. If it is not yours, you should avoid going into Panic Town at all costs. We want your outfit to scream "Wedding Maven" so loudly that it makes the entire cast of "Wedding Planner" look like amateurs.
However, the most important thing that we ask of you is to observe the wedding etiquette in the strictest manner possible and to do so without offending either the bride or the groom. Listen to what we have to say, and then have a look at our guide to proper behaviour for wedding guests.
Your time to shop for your wedding dress has finally come, and it promises to be the most exciting part of your wedding preparations. As soon as you answered "yes," a million different thoughts probably rushed through your head, and now it's time to put all of your attention into locating the ideal outfit you've been visualizing for so long.
The process of wedding planning might occasionally become a little stressful, but now is the time to take some time for yourself and transform into the stunning bride that you already are.
There are some things you should and should not do when shopping for a bridal gown, and you should keep these in mind when you go dress shopping for the first time. We have compiled a few pointers that can assist you in finding the dress of your dreams.
Do's Of A Wedding Dress
Do Some Research Before the Appointment
Spend some time doing some research on what you are searching for in your wedding gown. This will enable you to make the most of your time and will lure you right to the wedding dress styles that you have been dreaming of.
You should make a note of any specific elements to which you are drawn, such as a sweetheart neckline, a chapel train, or a mermaid silhouette, so that you will be better able to explain your desires to your consultant. This will help you find the perfect wedding dress.
Look at the latest collections offered by your favourite bridal designers by perusing catalogues and checking out their websites. You can also look for the latest trends in wedding dresses based on the month of your nuptials or the location of your ceremony.
Do Ensure The Schedule Of the Appointment
As soon as you have an idea of what you are searching for, the next step is to make an appointment at the wedding shops that you like the most. It is not necessary to make an appointment, but doing so will enable consultants to give you the attention you desire and will let you take your time looking for a dress that is appropriate for your special occasion.
On the day of your meeting, you should make sure to wear minimal makeup or none at all (you should skip the bright red lipstick for the day to prevent staining any gowns), as well as the appropriate undergarments, such as a strapless bra and nude underwear.
Keep in mind that a consultant will be assisting you in putting on and taking off the dresses; therefore, be courteous and ensure that you are wearing the appropriate undergarments.
Do Bring Along Those Person Whom You Trusted.
You have probably done shopping for dresses in the past, but your bridal gown is unlike any other dress that you have purchased in the past.
You'll probably find that you're interested in hearing the thoughts of others who are near you. This is a wonderful time, but be careful not to put too much pressure on yourself by inviting all of your aunts, relatives, and neighbours in addition to everyone at your bridal party.
Maintain an intimate setting for this occasion, and invite only those people whose company you would miss if they were not there, such as your mother, your future mother-in-law, your maid of honour, and your future sister-in-law.
Do Make Your Desires Known To Others Around You.
Keep in mind that you are the one who will be wearing this wedding dress. Because you are the one who will be walking down the aisle in it at the end of the day, do not be afraid to be open and honest with your wedding consultant, as well as your friends and family.
Be sure that you are accompanied by trustworthy people who are interested in helping you find the dress of your dreams and not the dress of someone else's dreams.
Do Choose A Clothing That Will Draw Attention To Your Curves.
Investigate your physical make-up and think of creative ways to direct people's attention to your most attractive features. However, keep in mind that this is a sombre occasion, and not a night out clubbing with your girlfriends, so make sure to behave appropriately.
Do Try On Some Ready-to-wear Bridal Gowns.
Even while ready-to-wear bridal gowns have their size, length, and colour restrictions, they are less expensive than gowns that are made specifically for the bride. You will be able to determine which of these fabrics shockingly feels wonderful on your skin and which of these cuts works well with your frame if you try on these dresses.
Do Go About In The Dress You Have On.
Because you will be wearing it continuously for at least six hours, it must be comfortable for you to wear. In addition to seeming stunning as you walk down the aisle, your wedding dress should also allow you to sit down (without making you feel uncomfortable) and dance (without tripping over the wedding train).
Don'ts Of  A Wedding Dress 
Don't Exclude Any Possibilities.
Do not immediately discount a gown that your consultant suggests to you, even though you may already have a picture of the ideal dress in your head. They have served hundreds of brides in the past, so they have a clear sense of which styles are most flattering for various body types.
How many times in your life have you dressed up in a ball gown made of tulle, a mermaid gown, or an A-line gown? It is fortunate for you that the silhouettes of bridal gowns are distinct from those of everyday apparel, as you are not seeking a dress for everyday wear.
Keep an open mind. You might even be taken aback if the "one" outfit turns out to be one that you could never have envisioned yourself wearing.
Don't Try On An Excessive Number Of Dresses.
Do not put undue stress on yourself by trying on an excessive number of dresses because you already have a lot of thoughts about your wedding day racing through your head. It shouldn't feel like work or work at all; this should be a joyful experience. It's easy to let frustration build up, and then before you know it, you can't even remember what you enjoyed best.
Some future mothers-of-the-bride are under the impression that they need to try on as many wedding gowns as humanly can until they break down in tears or experience an epiphany. The experiences that people have are all unique, as are their responses to those experiences.
It is always ideal to try on one gown from different silhouette possibilities to get a sense of which one flatters your figure in all of the appropriate places. Trying on one gown is always the best option. When you find the person you love, you can finally stop looking! Your work is done.
Don't Spend More Than You Have Available.
You should aim to avoid trying on wedding gowns that are priced above the limit you have set for yourself in your budget. You do not want to be the bride who falls in love with a gown and then becomes disappointed when she learns that the price of the gown is higher than what she can afford.
You don't have to compromise on style just because of the cost of your wedding dress when there are so many stunning options available at a wide range of pricing points. This is a rather typical oversight that can be easily avoided.
Don't Put Undue Stress On Yourself.
When there are so many people around who are willing to provide their opinion while you are shopping, it can be tough to remain loyal to the vision you have for yourself as you stroll down the aisle.
Do not feel pressured to purchase on the same day as your appointment if you did not fall in love with any of the gowns you tried on during your appointment. Simply set aside some additional time for reflection and conduct some additional research, and then make another appointment.
Don't Make Public Fittings For Your Gown.
Take pictures of yourself in each potential wedding dress you try on; this will help you determine which styles work best for you and which do not.
Once you've decided on a design, be sure to take pictures of it from a variety of perspectives (including the front, the back, and the sides) so that you can keep track of the alterations that need to be made and go over them during the subsequent fitting.
It is in your best interest to refrain from posting these images on social media to keep your friends (and especially your future husband) in the dark about how you appear until the moment you walk down the aisle.
Don't Put Yourself In A Position Where You Can Only Meet Your "Dream Dressmaker."
You should be open to meeting established designers as well as up-and-coming couturiers who might be able to whip up your dream gown even if you do not have a personal relationship with a dressmaker who has been designing your clothes for years. This is the case even if you do have such a relationship.
Don't Be In A Rush When Choosing An Evening Gown.
You have the luxury of searching online for your wedding gown unless you are getting married in less than a week and do not yet have a dress (gasp!). In that case, you will need to go to a bridal shop. Just set a date by which you need to either have your dress produced or purchased before the deadline.
Using these helpful hints, you should be able to have a pleasant time searching for your wedding dress. If you're looking for a gorgeous wedding dress. Then, look no further than MyDressBox where you can satisfy your needs.